Thanks to you, we will be able to plant 100+ additional trees this season! Considering the challenges of 2020, we are extremely grateful for the support we received.
Run for the Trees has ended. Please check back later in the year. We're going to do it again!!
OneTree.org is proud to present RUN FOR THE TREES.
The first ever Earth Week solidarity "virtual" run.
Sunday, April 19th through Saturday the 25th.
You run for the trees.
We plant them for you.
Every run = One tree planted!
Walk. Jog. Hike. Run.
The most important thing is to
GET OUTSIDE!
This isn't about competing in a race. This is about connecting with the outdoors, getting exercise and contributing to the environment for Earth Week by having us plant a tree for you. You don't even have to post your results to receive your Earth Brigade dog tags. No pressure! Get outside, enjoy the sights and sounds of nature and report back to us at #runforthetrees if there's anything you want to share along the way.
What is a Virtual Run?
The concept of a virtual run is relatively new but has become a popular way to participate in running events. Simply register online, run the designated distance anywhere you want and upload your results to the website.
Virtual runs are a great way to become involved with a charity from anywhere in the world and glean motivation from others through social media. Virtual runs are convenient because they're designed to fit into your busy schedule: You can run anywhere, any time and on your chosen day of the event schedule. Avoid the crowds, run it on your own terms and still receive keepsakes just as you would at a location-based run. Better yet, you're supporting a cause important to you, such as planting trees with OneTree.org!
Now let's get motivated together for Earth Week 2020!
How it works:
Register for the 5K or 10K Run for the Trees event.
Map out your distance, wherever you want, equal to the run of your choice. Here are some great tips on how you can map your run. Treadmills are fine as well.
As you train, please use the hashtag #runforthetrees on Facebook & Instagram. Please share photos & videos to inspire all of us to protect our health and our planet.
During Earth Week of Sunday, April 19th through Saturday, April 25th, pick a day and run your 5K or 10K distance!
After your run, head over to the results page (private) to upload a screenshot or photo of your results. Plan to use a fitness tracker or running app to track your run. There are many run tracker apps & devices to choose from.
Celebrate! You just exercised for the Earth. The proceeds from your run will go to plant a tree in the U.S.A through OneTree.org. We will ship you an Earth Brigade 2020 dog tag for participating!
Looking for the easiest to use Run Tracker?
We want this Earth Week's #runforthetrees to motivate everyone to get outside, run for your health and give back to the Earth we all share. It helps to have friends & family involved to share in the motivation. With this in mind, we have discounts for group and team runs!
Discounts will be applied automatically during registration checkout. For group discounts to apply, your Earth Brigade Dog Tag rewards must all be shipped to the same address. You will be able to specify the participant names on the Results form. The Results page is private. You will receive the page info by mail and email. Questions? Please email: plant@onetree.org
Save $5/ea for multiple runners
Save $8/ea. for teams of 5 or more!
The discount is for consolidating your registration into one order to be shipped to one address. This allows us to save on shipping and packaging, so we can stretch your donation further. If you have a team spread out around the country, you can apply for a special coupon code here. Thanks!
Medals? We don't need no stink'n medals!
Welcome to the Earth Brigade.
Defending the environment through education and activism is important, but doing the actual job of rehabilitating damaged ecosystems is costly, critical work. We are the muddy boots-on-the-ground in the fight to protect & restore our planet. Our supporters are "The Earth Brigade," the force behind everything we do.
For our volunteers at OneTree.org, Run for the Trees is part of a bigger goal to prepare our bodies for a grueling planting season. To thank you for supporting and inspiring us, you will receive these limited edition EARTH BRIGADE dog tags. The tags are embossed with the Earth Brigade logo stainless steel and lightweight enough to wear, put on a keychain, or attach to a bag. (*Note: These are not individualized with your name, sorry. We would if we could!)
We'll plant a tree for you!
For every single race participant, OneTree.org will plant a tree right here in the U.S.A.! We are currently planting sites in the Southwest region of Florida, an area with a turbulent history of deforestation.
The idea behind Run for the Trees is that most of us simply have no place to even plant a tree, but we all want to do our part to protect the planet. By running for the trees, we can get outdoors to connect with nature and push ourselves toward better health. We believe striving for optimal health is not only key to reaching personal potential, but makes it possible to serve our loved ones and our community better. Your run with us makes it possible to plant more trees and motivates us to do the same. We're all in this together. Thank you! -OneTree.org Team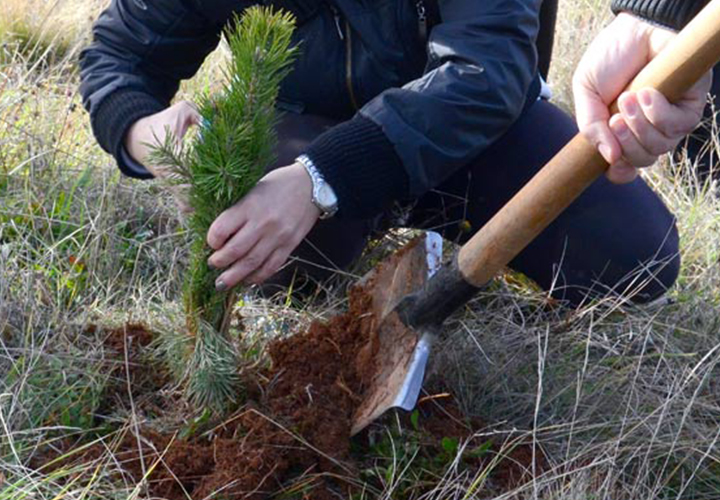 EARTH. The one. The only.
The Earth is truly the one thing we all share. You've undoubtedly heard "Earth Day is Every Day" and "There's no Planet B". Of course we agree with those lovely sentiments. To kick off this Earth Week and OneTree.org's Earth Brigade, we decided to go with pure minimalism and just say it: EARTH. Inspired by the classic ARMY training t-shirt, we want to make it clear to everyone what we're fighting for.
Plus - Every tee plants a Tree! Adding this shirt to your Run for the Trees training regimen, means you'll be planting another tree with us and you'll save $5 on the run fee. Let's benefit our bodies and the environment this Earth Week. The EARTH BRIGADE bootcamp t-shirt is a soft tumbled cotton, chosen for that worn-in vintage feel. Choose your size here.
Team Trees Link Exchange
We'll add your logo here in exchange for promoting the run! Simply share the event with your colleagues, clients and use #runforthetrees on social media. Once you do: email a screenshot proving you shared the event, your logo file, and where you want the logo linked to plant@onetree.org - Thanks!